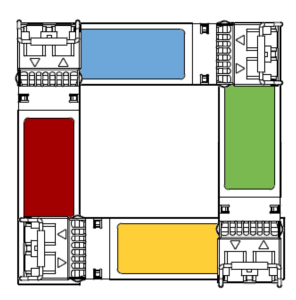 FogIXP
FogIXP is a distributed IXP operated by iFog GmbH with multiple POPs connected over an L2 VPLS donated by a generous sponsor. :)
Originally build as a Peering LAN for customers, now open to everyone!
Joining requirements:
-Have a valid public ASN
-Have up-to-date PeeringDB information (preferably)
-Have up-to-date RIR Whois information
-Only send traffic to destinations advertised by BGP on the Peering LAN
-Does not send any multicast (except ARP/IPv6 ND) packets
-Will not advertise the FogIXP addressing space outside of the FogIXP infrastructure.
-Will not abuse the Peering LAN for commercial services.
-Will not tunnel out the peering port or peering lan.
-MTU on the client interface must be at least 1500.
Current PoP:
-data11 / iFog Switzerland
-NTT E-Eshelter ZRH
-NIKHEF Amsterdam (room H140)
-iFog Frankfurt
-iFog Kansas
-Cogent Halfweg / iFog Amsterdam
Ports:
-Until further notice 1GbE ports are free of cost.
-One port per organisation.
-For physical connections, bring your own optic or DAC, FogIXP does not cover the cost for the crossconnect.
-FogIXP is also avilable on iFog VPSs in Switzerland, Frankfurt, Amsterdam and Kansas.
Joining:
-If you're interested in joining FogIXP, please open a request here
-Find our member list here.
---
FAQ:
Q: Can I have a second port?
A: Additional ports are provided on a case-by-case basis, additional ports in different locations are only granted to networks with their own backbone.
Q: Can i join over a tunnel?
A: No! We dont support tunnels of any kind. You may connect over a L2 service, crossconnect or VPS.
Q: Why yet another IXP?
A: Long story short: We do not aim to compete with other IXPs.
FogIXP is an L2 peering LAN that was originally thought to be an alternative to building dozen of P2P and shared VLANs between customers for BGP peerings. As the idea grew in our social circle, other networks who are in the same DCs wanted to join, hence it's now an IXP where everyone is welcome (see rules).
Q: Are there Route Servers?
A: Yes!
RS1 - Amsterdam: AS47498 - 185.1.147.111 - 2001:7f8:ca:1::111
RS2 - Zürich: AS47498 - 185.1.147.222 - 2001:7f8:ca:1::222
---
Architecture:
Currently there are four VPLS switches in Amsterdam, Frankfurt, Zurich and Solothurn connected over a L2 VPLS. Kansas is an extension switch connected to Amsterdam over a L2 VLAN.
---
Donate
Do you wish to donate for this awesome project? You can donate to iFog GmbH to run this project here